Anthony Pepe

Season 1 contestant
Personal Information
Age
35
Hometown
Queens, NY
Residence
Astoria, NY
Occupation Info
Expertise
Horror / Characters / Molding / Prosthetics
Occupation
Demonic Pumpkins Studio (Owner)
Results
Season(s)
Season 1
Placement
7th
Eliminated on
"The Dancing Dead"
Anthony Pepe is a contestant of the first season of Face Off. He placed 7th overall, being the first person eliminated in "The Dancing Dead".
Biography
While growing up in Queens, Anthony Pepe discovered his passion for drawing and illustrating at a young age. He attended Pratt Institute for Film Animation and illustration. During his first semester he had a change of heart and decided to change vocations. In 1995, he attended the Joe Blasco Makeup Center in Orlando, FL. When he moved back to New York City, he immediately landed a gig working on independent films. He then began building his special FX makeup studio in his grandmother's defunct garage, which has now been open for 15 years. Anthony finds unusual inspiration to incorporate into his different characters – craft service, carpentry, plumbing and chemistry. A big fan of horror and comedies as well as anything from the '80s, Anthony uses his characteristic background to deliver glamour, characters, injuries, blood and guts, monsters, animatronics, and prosthetics for the entertainment industry. Anthony is outgoing, likes to take charge and be thoroughly involved, and can sometimes be extremely honest.
Season 1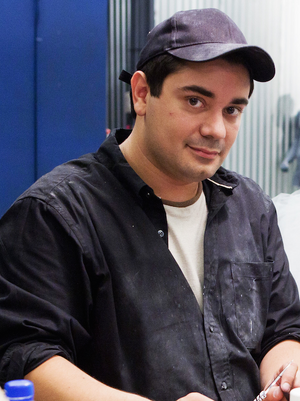 Episode
Placing
1.01
IN
1.02
WIN
1.03
LOW
1.04
LOW
1.05
HIGH
1.06
OUT
8th
Face Off portfolio
Trivia