Eric Garcia

Season 3 contestant
Personal Information
Age
31
Hometown
Miami Lakes, FL[1]
Residence
Orlando, FL[1]
Occupation Info
Expertise
Airbrushing, Application, and Sketching[1]
Occupation
Free Lance Makeup Artist[1]
Results
Season(s)
Season 3
Placement
10th
Eliminated on
"Year of the Dragon"
Eric Garcia is a contestant of the third season of Face Off. He placed 10th overall, being eliminated during "Year of the Dragon".
Biography
Eric Garcia is not bothered by having to compete against his fraternal twin brother, Derek, in season three of Face Off. Like true twins, they anticipate each other's thoughts and finish each other's sentences. They both have different styles. Eric's style is very sci-fi influenced. For the past two years, he worked in Hong Kong with AEO studios, where he was a team leader. As a single man, he says that he needs to win Face Off because special effects makeup is all he knows and is the only thing that he has wanted to do. When his ideas transfer on paper, all of his creations come to life.[1]
Season 3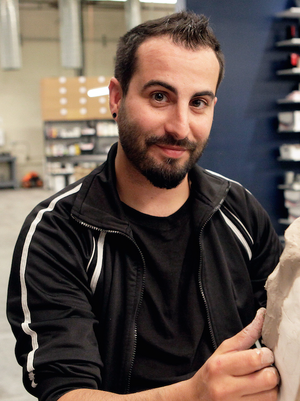 Eric, along with the rest of the contestants eliminated prior to "Monster Twist" (sans Joe Castro, who quitted), came back during the said episode and was offered a chance to get back on the show through a foundation challenge. Eric was one of the two top looks, but lost to Nicole Chilelli.
Face Off portfolio
Trivia
References