Gage

season 1 contestant
Personal Information
Age
26
Hometown
Willard, UT
Residence
Pasadena, CA
Occupation Info
Expertise
Prosthetics / Latex / Trauma / Beautifying / Horror / Fantasy / Ethnicity / Old
Occupation
Make Up Artist
Results
Season(s)
1 &

Face Off (Season 11)11

Placement
RUNNER-UP in Season 1

12th in Season 11

Eliminated on
Twisted Tales
Gage Hubbard is a contestant of the first season of Face Off. He made it to the finals but lost to Conor McCullagh.
Biography
A gifted make-up artist, Gage ("Munster") Hubbard became terrified of Freddy Kruger after watching A Nightmare on Elm Street at just six years old while living in rural Utah. In order for him to not be afraid of Freddy, his mother and father bought him his first Horror FX magazine to show how Freddy's makeup was applied. It was then that he yearned to understand more about the art of special make-up effects. Growing up, Gage was labeled an outcast. He loved alternative music, wore crazy/funky clothes, and buried himself in R-rated monster movies and his artwork. Gage is an openly gay man who grew up very close to his mother, whom he utmost admires. He has been living on his own since he was 17 years old, moved to Las Vegas, then shortly thereafter to Los Angeles, where he adopted the nickname of "Munster," and put himself through make-up school. He has been working professionally since 2005.
Season 1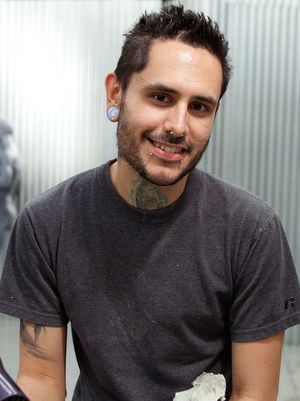 Episode
Placing
1.01
LOW‡
1.02
IN
1.03
HIGH
1.04
HIGH
1.05
IN
1.06
IN
1.07
HIGH
1.08
IN
RUNNER-UP
Season 11
Episode 1: Abstract Aliens
Episode 2: The Devil is in the Details
Episode 3: Monster High
Episode 4: Snow Queens
Episode 5: Troubling Transformations
Episode 6: Wasteland Warriors
Face Off portfolio
Trivia