Jo Holland

Season 1 contestant
Personal Information
Birthname
Kayla Holland
Nickname
Jo
Age
21
Hometown
Hilo, Hawaii
Residence
North Hollywood, CA
Occupation Info
Expertise
Horror
Occupation
Halloween Adventure store

(Assistant Manager)

Results
Season(s)
Season 1
Placement
8th
Eliminated on
"Switched and Hitched"
Kayla "Jo" Holland is a contestant of the first season of Face Off. She placed 8th overall, being eliminated in "Switched and Hitched". She is also a contestant in the final season of Face Off, being eliminated on the second episode, "Moonlight Monsters".
Biography
Sporting many tattoos and a gothic rockabilly style, Kayla "Jo" Holland has motivation and determination rarely seen at such a young age. Her mother was very young when she had Jo, and the two share a sisterly relationship and friendship. Jo values security and structure in her adult life. When she needed a job, she walked into a Halloween shop, approached the manager, and created a position for herself performing makeup demonstrations for the customers. Today she is assistant manager of the shop.
Season 1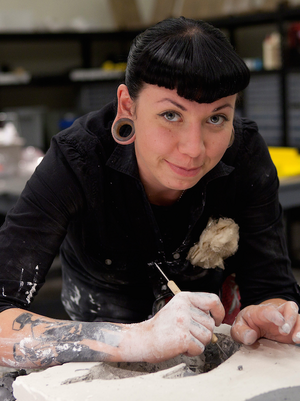 Episode
Placing
1.01
LOW
1.02
HIGH
1.03
HIGH
1.04
IN
1.05
OUT
8th
Face Off portfolio
Trivia