Nicole Chilelli

Season 3 winner
Season 7 helper of finalists
Personal Information
Age
28
Hometown
Sacramento, CA
Occupation Info
Expertise
"Creepy beautiful"[1]
Occupation
Vicious Vanity FX (founder)[1]
Results
Season(s)
Season 3
Placement
Winner
Eliminated on
"Alice in Zombieland" (returned during "Monster Twist")
Nicole Chilelli is a contestant and winner of the third season of Face Off. Even thought she was eliminated during ""Alice in Zombieland", she won the Foundation Challenge during "Monster Twist", which allowed her to return to the competition. Nicole also returned as one of the helpers for Season 7 finalists.
Season 3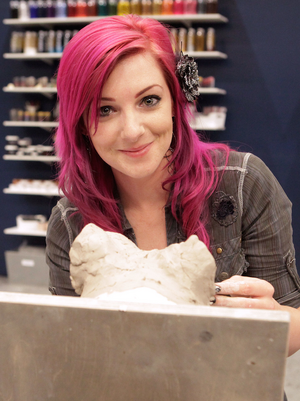 Season 7
Face Off portfolio
Trivia
She's the only contestant on the history of Face Off to win by public vote.
She's the first female contestant to win Face Off.
She's also the first and only contestant on Face Off to return to the competition during the season of the original elimination.
In January 2019, Nicole gave birth to her son Greyson Wolf.
Social media

References