Sergio Guerra

Season 1 contestant
Personal Information
Age
31
Residence
San Antonio, TX
Occupation Info
Expertise
Horror / Sculpting / Prosthetics / Costumes / Life Casting
Occupation
Owner (Darkness FX)
Results
Season(s)
Season 1
Placement
11th
Eliminated on
"Naked Ambition"
Sergio Guerra is a contestant of the first season of Face Off. He placed 11th overall, being eliminated in "Naked Ambition".
Biography
Sergio Gurerra was born in Mexico and grew up in San Antonio, Texas. At age five, he won a Halloween contest dressed as Frankenstein and from then on was hooked on the horror. He realized he loved to scare people and would create fake wounds and injuries on himself to freak out his mother and aunts. In high school, he was very involved in the school band playing the trombone and brass instruments, but everyone kept trying to get him to play football, instead. He refused and went on to college to major in music at Texas State. He continued honing his Halloween character skills and started Live The Darkness five years ago. He creates and sells masks, costumes and props and gives special FX workshops. Sergio is very tall, has a wild sense of humor with a loud personality to match. He says he can read people very well, and if someone is trying to sabotage him he has no problem playing dirty right back.
Season 1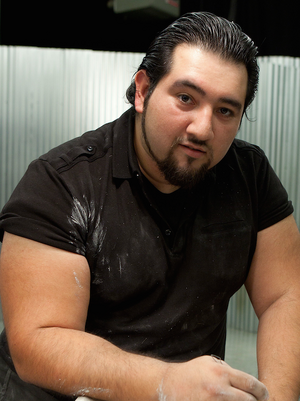 Episode
Placing
1.01
LOW
1.02
OUT
11th
Face Off portfolio
Trivia
He had a honorable mention of having the longest explanation for a make up on Face Off history. Episode 15 of season 5 (Countdown Top 20 - Judges' Favorites)