Tate Steinsiek

Season 1 and Season 5 contestant
Personal Information
Birthname
Bryan Steinsiek
Age
31
Residence
Henryette, OK
Occupation Info
Expertise
Horror & Fantasy
Occupation
Special FX Makeup Artist
Results
Season(s)
Season 1 and Season 5
Placement
RUNNER-UP (Season 1)

RUNNER-UP (Season 5)
Bryan "Tate" Steinsiek is a contestant of the first season of Face Off. He made it to the finals but lost to Conor. He also appeared as a contestant in season 5, where he also made it to the finals but lost again, this time to Laura Tyler.
Biography
Season 1
Tate Steinsiek was born in a small farming community near Tulsa, Oklahoma. With an artist mother and a boxer father, he was torn between two worlds and developed a bit of a split personality -- "Tate," who was encouraged to express his ideas and feelings through art, and "Bubba," a lean mean fighting machine who was trained as a competitive fighter. As a child, while unsuspectingly watching Rick Baker's special feature on Thriller and American Werewolf in London, Tate found a new calling in Special FX Makeup. Tate moved to New York City in 2002 to start his own Special FX Company. In 2003, his company, Ill Willed Productions, began providing SFX Makeup prosthetic application and prop fabrication to a client roster including The Jim Henson Company, DreamWorks, NBC, HBO, Xbox and more. In 2006, Tate was featured on the Reality Series Making it Big and won the competition in the FX Challenge episode.
Season 5
A native mid-westerner who now lives in Brooklyn, Bryan "Tate" Steinsiek has long had a bit of a dual personality. From his father, Tate developed a life-long passion for the rough and tumble of Mixed Martial Arts fighting. From his mother, he developed an artistic streak, which is what drives his work as a special F/X makeup artist. His recent work includes designing and creating work based on the work of Clive Barker and the horror author's Seraphim Films company. A finalist on the first season of Face Off, Tate is back this season because he loves the competition that is at the heart of the show, and because he believes that in the few years since he last appeared on Face Off he has developed skills that more than match previous winners. His favorite movie with special effects is An American Werewolf in London.
Season 1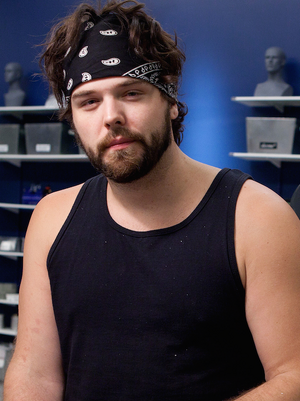 Episode
Placing
1.01
HIGH
1.02
LOW‡
1.03
IN
1.04
HIGH
1.05
HIGH‡
1.06
WIN
1.07
IN
1.08
IN
RUNNER-UP
Season 5
Face Off portfolio
Trivia
Tate is the only contestant to appear in two Seasons (1 and 5) and make it to the finals but not win.
Social media